Home

 › 

About Us

 › 

Message from the President
Message from the President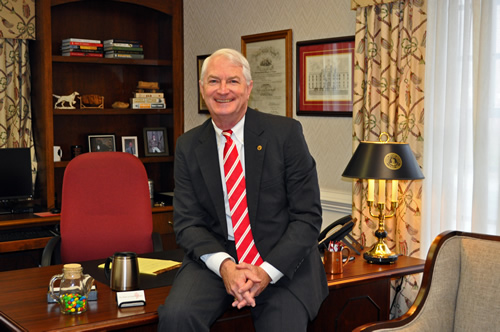 The Bank of Charlotte County (formerly the Bank of Phenix, Inc.) (hereafter referred to as BCC) was founded in 1912 by R. S. Chamberlayne, Jr. who served as its first President for 60 years.  Mr. Chamberlayne was 28 years old when he organized and founded the Bank.  When he retired in 1972, some 60 years later, he was 88 years old!  Mr. Bobby A. Howard was President and Chief Executive Officer from 1972 until June 30, 2016.  Mr. Howard continued to serve as the Chairman of the Board of the Bank and Holding Company until January 23, 2022.  I was named President and Chief Executive Officer of the Bank and Holding Company on July 1, 2016, and Chairman of the Board on January 24, 2022. 
The Bank's main office location has remained unchanged since its opening.  The front door is in the exact same location as 1912, with three major additions to the building since that date.  It is the oldest continuously operated business in the Town of Phenix.  In November 2023 the Bank will celebrate its 111th year of operation as a full service, independent community bank dedicated to our customer's needs.
The Bank of Charlotte County has never closed since it opened in 1912, and was one of the few banks in Southside Virginia to remain open even during the Great Depression of the 1930s.  Thus, it rightfully has earned the nickname "The Old Reliable".  Over the years, Bauer Financial Reports, Inc., has awarded the Bank its Five Star Rating.  Bauer is a nationally known independent bank rating company and its Five-Star rating is the highest given.  The rating indicates The Bank of Charlotte County to be one of the strongest banks in the United States based on its capitalization, operating, and income performance.
The Bank of Charlotte County continues to operate under a strong community bank philosophy.  BCC has been and will continue to be committed to the communities it serves.  This commitment is evident through the volunteer efforts of its employees as well as the Bank's willingness to utilize its resources for the benefit of community organizations.
The Bank of Charlotte County offers a full array of financial products and services including commercial, mortgage, consumer banking, insurance, title insurance, broker/financial management, ATM's, Online Banking, Bill Pay, Mobile Banking, Remote Deposit, Electronic Statements, Debit Cards, Credit Cards, Merchant Services and 24 hour Telephone Banking.  We will continue to focus on understanding and implementing technology that will meet our customer's demands and needs.  
Change in our industry is constant and we have to accept and expect this to continue.  We believe that our core values of honesty, integrity, candor, communication, consistency, accountability and dedication will allow our company to grow and prosper in the years ahead.
To our current customers, we thank you for your business and ask for your continued confidence and support. If you are considering our Bank for the first time, we are grateful for the opportunity to serve you.
Dabney T. P. Gilliam, Jr.
President & Chief Executive Officer
---